THINGS TO DO ON THE SHAYO SHIP
ONBOARD EXPERIENCES
We OOOUUTSIDE and it's time to put adventure back on your radar onboard the "Eh Heh" worthy Explorer of the Seas®.
It all starts with the Pre-Cruise Party in Miami, Florida on Nov 20, 2023.
We then sail from Miami to the beautiful shores of Jamaica for our Beach Party in Ocho Rios.
Experience the ultimate Afrocentric getaway on UberAfro Cruise! Indulge in a 4-night adventure filled with non-stop Afrobeats parties, live concerts, themed parties, and captivating comedy and fashion shows.
Immerse yourself in the culture with fashion shows, pool parties, and a lively beach bash. Enjoy Nollywood Nights, engaging workshops, sports tournaments, and rejuvenating health and wellness activities. All complemented by exquisite African and Caribbean cuisine, premium drinks and the top Afrobeat and Amapiano entertainers in the world!
Unforgettable memories await!
THE SHAYO SHIP!
SO MUCH MORE TO EXPLORE
Your UberAfro Cruise experience is about to get a whole lot wilder. Welcome onboard Explorer of the Seas® — a ship that offers as many thrills and ways to chill as the destinations it takes you to. Like laid-back lounging in the  Solarium. Tee-offs with stunning sea views on the deckside Mini Golf green. Figure eights and double axels on the ice skating rink. And get your adrenaline fix on twin racers Typhoon℠ and Cyclone℠ — part of The Perfect Storm℠ now onboard Explorer of the Seas®.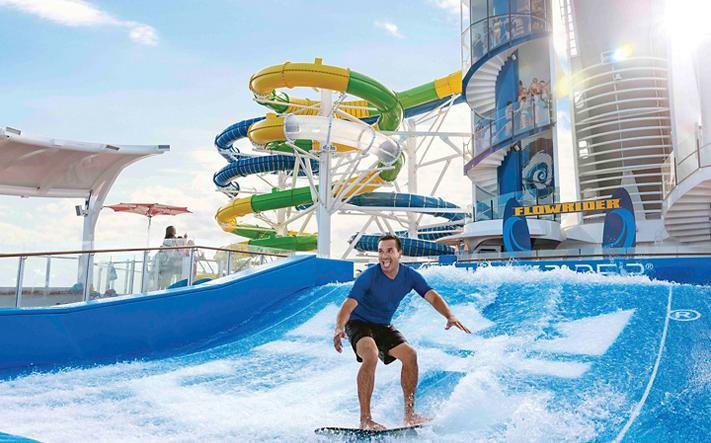 Grab a board and get ready to ride — the 40 ft FlowRider® surf simulator is the ultimate aquatic hangout. Carve the waves upright like a pro surfer or boogie-board on your stomach as 30,000 gallons of rushing water keep you afloat. You can also cheer on your friends from the sidelines and get splashed after every wipeout.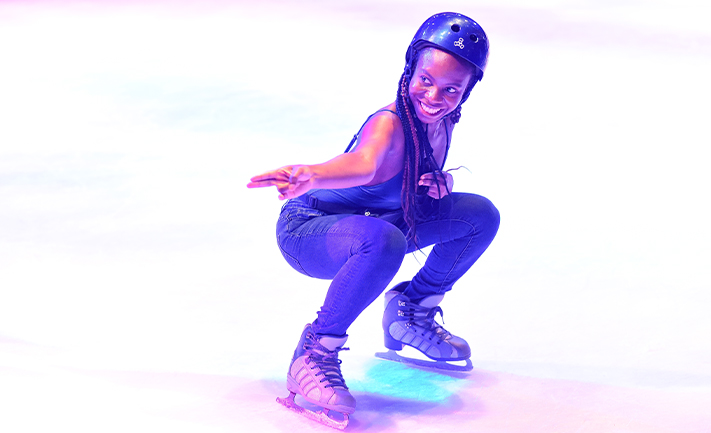 After a day spent partying it up on the pool deck, lace up your skates and take your adventure to the chill zone at the onboard ice skating rink. Whether you're a newbie or a skilled skater, everyone is welcome on the ice.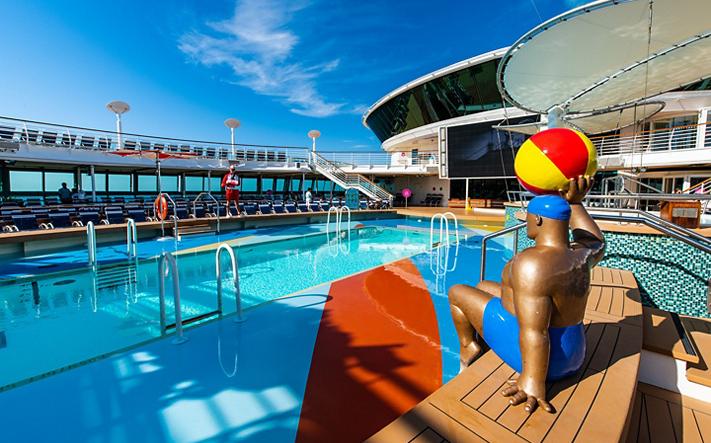 Kick back and soak up the Afrobeat and Amapiano vibes on the pool deck. Have a blast in the main pool, home to belly flop competitions, Nollywood Movie Premieres under the stars and parties with the top Afrobeat and Amapiano entertainers in the world. If you're looking for some grown-up relaxation, head to the Solarium where it's all about endless sea views and serenity.
Whether you're craving authentic African, Caribbean or Italian eats at Giovanni's℠ Table, Asian-inspired flavors at Izumi, or steakhouse classics at Chops Grille℠ — with options like these, meal time is guaranteed to always be memorable. And after you've treated your taste buds, keep the party going with more than 15 bars, clubs and lounges to choose from — all onboard Explorer of the Seas®.
Embark on a globetrotting gourmet journey at Windjammer, where an ever-changing menu highlights cuisine from around the world at self-serve stations. Savor courses that take you from Nigeria, Ghana, Kenya, South Africa to Ethiopia and many more in the Main Dining Room. And indulge in deli-style sandwiches and Mediterranean-inspired antipasti at Café Promenade. The best part? It's all included in your cruise fare.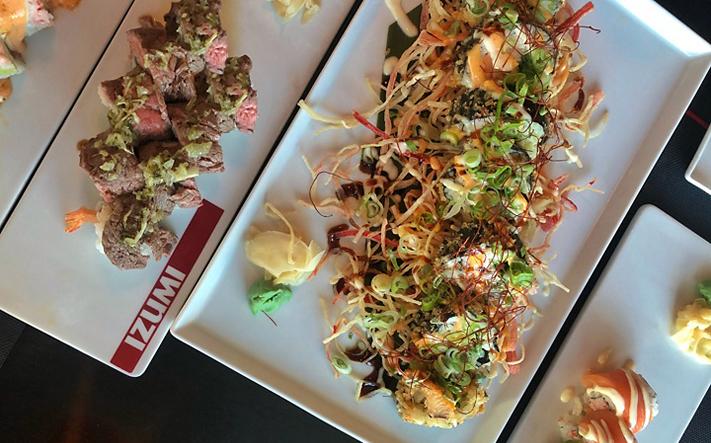 Get ready to taste your way to Japan and beyond with fresh sashimi, hand-rolled sushi, izakaya-style appetizers and tasty Asian-inspired entrees prepared by a master chef right at your table. At this top-rated specialty restaurant, dinner is always served with a show.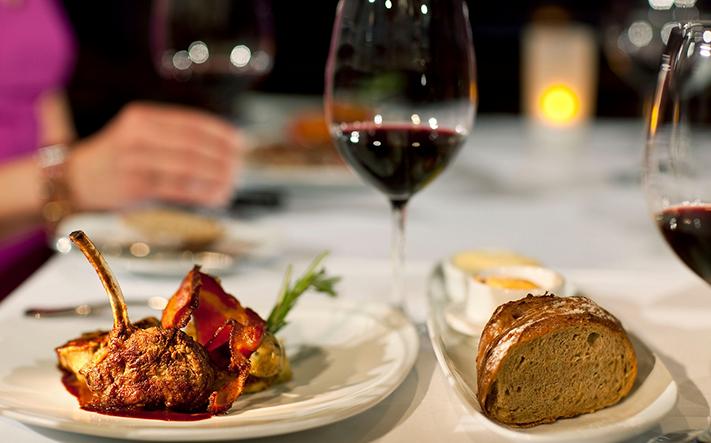 For more than a decade, the chefs of Chops Grille℠ have proudly presented quality, hand-cut prime steaks at this hallmark Royal Caribbean restaurant. .
UBERAFRO VIBES
AFTER HOURS
There's no curfew onboard UberAfro Cruise®. Once the sun sets, start the night right with classic cocktails, rum punches and live dj and artist performances on the Pool Deck followed by the After Parties in Studio B, the Avenue, and Star Lounge.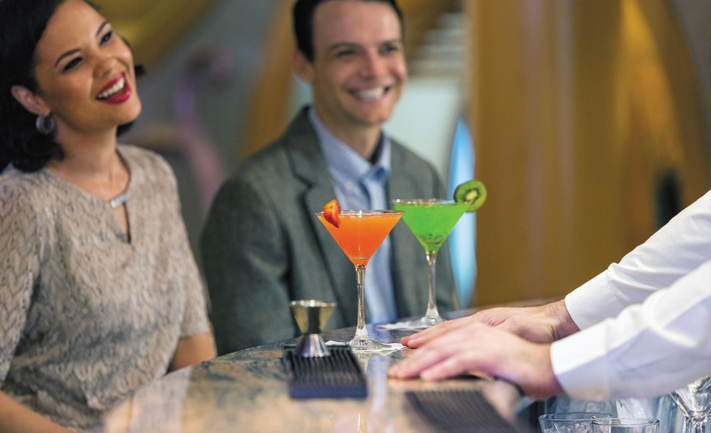 AFRO VIBES & CLASSIC COCKTAILS
At R Bar, classic cocktails come with a healthy dose of nostalgia. Inspired by the swanky drinking dens of the '50s and '60s, this sleek and sophisticated lounge is the perfect spot to unwind with an old fashioned or a dry gin martini.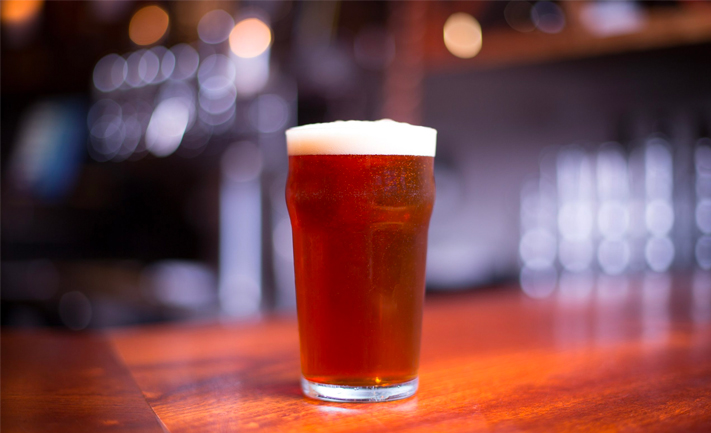 You'll feel like you've been whisked away to London once you step inside the Crown & Kettle. Choose a brew from an impressive list that ranges from pilsners to porters, or indulge in your favorite spirit or UK-themed cocktail. Linger a while longer to catch one of the UberAfro entertainers who may pop in to perform.